EVRIPIDOU SOLUTIONS specialises in the provision of products and turn-key solutions for hotels. The products offered, are the products of the best and most recognised companies in Europe.

All products such as electronic locking systems, minibars, safeboxes, bathroom accessories, are characterised by contemporary design, high-end technology and excellent quality with an ecofriendly attitude.

The use of new technologies is adapted to all products leading to lower energy consumption, higher safety and always focusing on the price – quality relationship

The company's after sales department, guarantees quick and effective technical support as well as excellent maintenance within the lifetime of its products, while being responsible for the repairs and replacements of your products.

EVRIPIDOU SOLUTIONS is the ideal choice for the hotels who seek top quality, design and excellent service.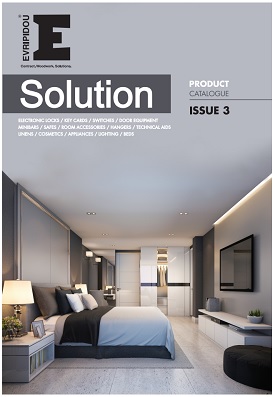 Download EVRIPIDOU SOLUTIONS catalogue